BUSINESS HOTEL
A view of the River Spree in the heart of the city
Discover Berlin's most beautiful side during your stay in our modern rooms of our 4-star hotels in Berlin-Mitte! Extraordinary comfort and stylish design combining tradition and trends – our 224 rooms and suites are offering you a comfortable stay. The rooms are equipped with an air conditioning, TV and free Wifi. The access to our VITALITY fitness & sauna area is free of charge.
Take a seat in our restaurant CARL & SOPHIE Spree Restaurant and enjoy our light modern cuisine and drink variations with a generous view of the River Spree.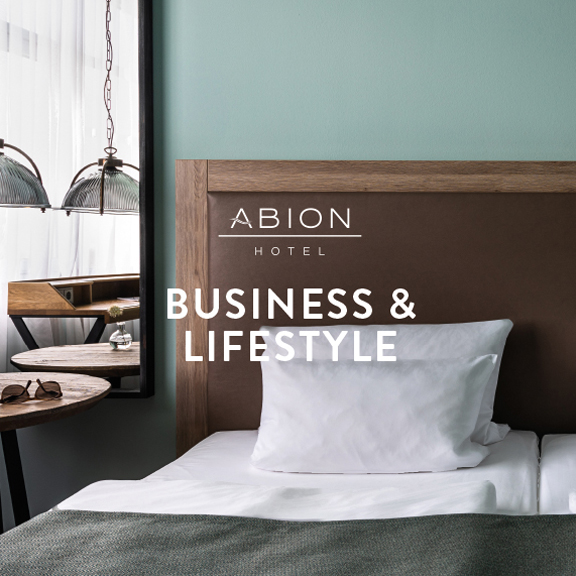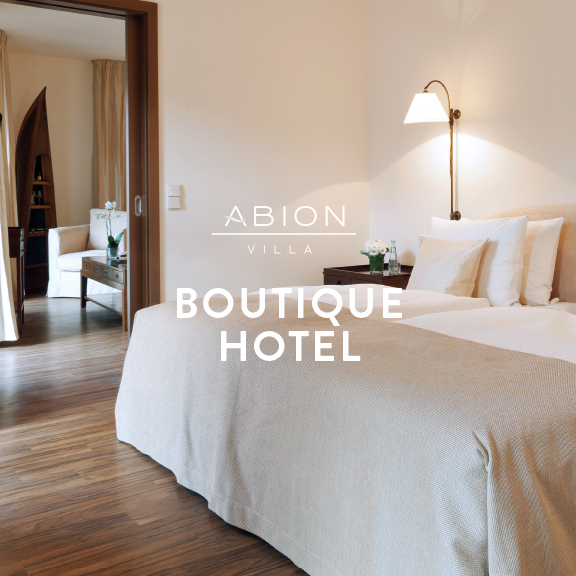 BOUTIQUE-HOTEL
FOR INDIVIDUALISTS
Next to the boat landing stage of our ABION YACHT AIDA the exclusive boutique hotel ABION VILLA welcomes you.
This residence is a perfect mixture of individualism and lifestyle. The ABION VILLA is located on a private property near the government district and the Schloss Bellevue.
This unique city residence has 19 rooms and suites in a central, quiet location in the heart of Berlin. Historical structures and an extraordinary atmosphere combine harmoniously, so that you can enjoy the attractive combination of a pulsating metropolis and a peaceful river landscape.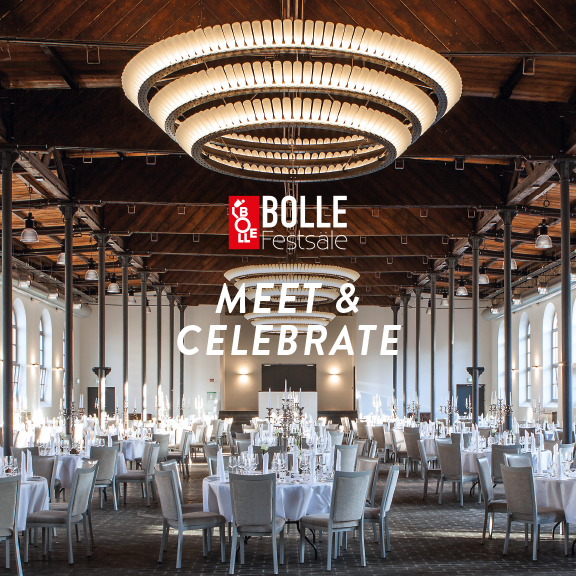 EVENT VENUE
WITH MODERN EQUIPMENTS
The BOLLE Festsäle are one of the most impressive event locations in Berlin. The listed clincer construction from the industrial era around the end of the 19th century was once a dairy company of the famous producer Carl Bolle. Within the historic walls BOLLE Festsäle offers perfect conditions for all kinds of events. On a total area of 3.000 square meters are two impressive halls available, three office rooms and a bar with a rooftop terraces. Let us know how your event will look like – we will help, inspire and support you in any way. The BOLLE team is working hand in hand with professional partners for planning and host your event in detail. We work closely with you to make sure that your event becomes a complete success and a unique experience.
We always have the right contact person for you whether you need event set-up, entertainment or professional equipment as well as arrangements of decoration and flowers or hostess and service staff.



SPREE RESTAURANT
CULINARY DELIGHTS IN THE HEART OF BERLIN
In our waterside restaurant CARL & SOPHIE, chef de cuisine Martin Höse enchants you with his creative variations. Here you will find creative, down-to-earth cuisine, paired with excellent service. Dine on one of our large terraces or in our restaurant with panoramic windows giving superb views of the River Spree throughout the year. CARL & SOPHIE represents a stylish-comfortable restaurant in a enjoyable athmosphere.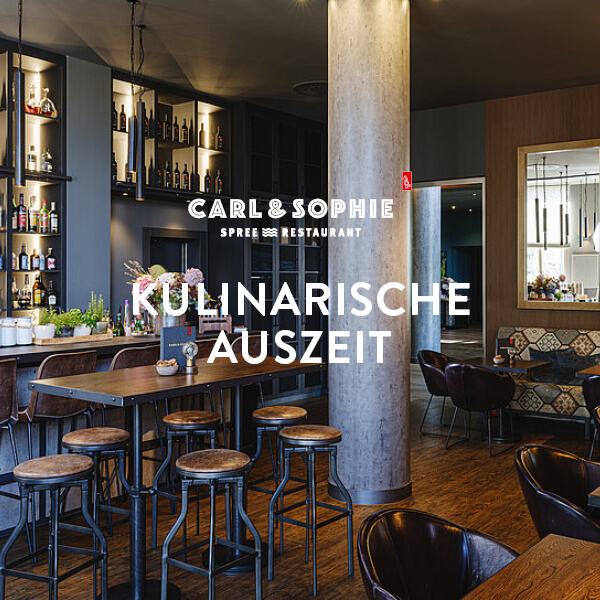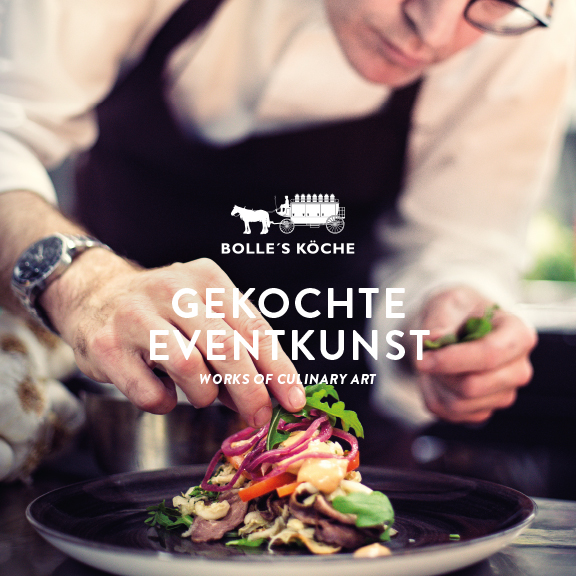 CULINARY ARTS
EVERY OCCASION WILL BE INDIVIDUALLY PLANED FOR YOU
Cooking is a passion for us. Therefore, your event is a matter close to our hearts. Upon your request we will create the perfect dishes, which are suitable for your events. Whether it should be a business lunch, a casual get-together or a pompous gala dinner – in our culinary range from simple to finesse we have a solution.
Bolle's Köche – that's a team which includes head chef, his representive, young chefs, patissier and the entire kitchen staff. As well as men and women of national and international backround with experiences in catering and fine dining. Everything we can create, should benefit you and your guests.



YACHT AIDA
WELCOME ON BOARD!
Charter our motor yacht AIDA for your private or busines event! Whether it is a cocktail cruise with friends or an individual sightseeingtour on the River Spree. The historial ABION yacht AIDA offers space up to 20 people. Discover the cultural metropolis Berlin from its most beautiful site.
We will be pleased to serve you our exquisite selection of wines and culinary specialities. Upon your request we willl create an individual package for you.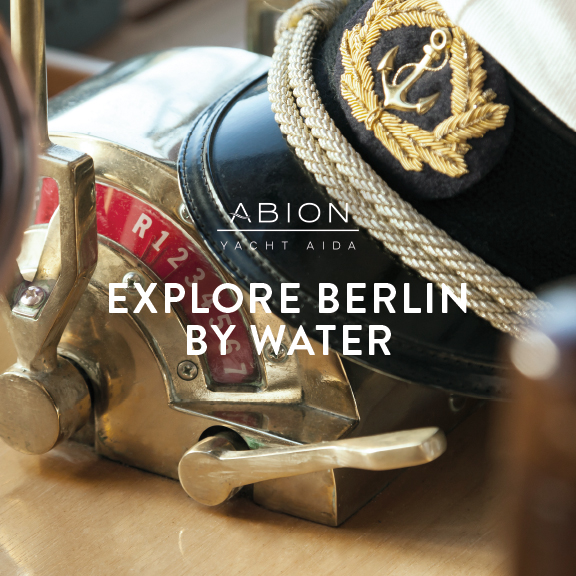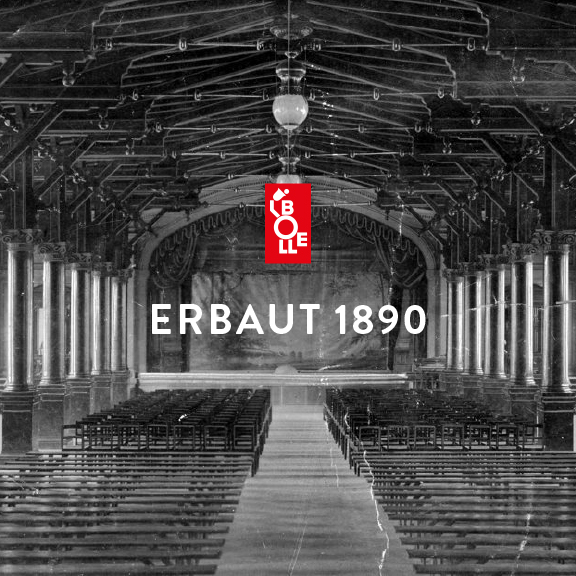 BOLLE HISTORY
AN INSTITUTION WITH TRADITION
Like Berlin itself, the Bolle Festsäle area, too, has a unique history. The building was constructed in 1893 on the bank of the river. The former diary was officially opened by the last German Empress Viktoria Auguste. He established his reputation by building the most advanced large-scale dairy in the city. Carl Bolle was one of the pioneers of the Berlin economic boom. Where today the Bolle Festsäle, the Abion Hotel and the Abion Villa are located, Bolle created manufacturing and workshops areas, a chapel and accommodation for his employees, social facilities, stable and vehicle depots.
Milk drivers rode through the city in "Bolle carts" and Berliners were able to buy fresh milk – a sensation at the time.



ROAD OF RECOLLECTION
BERLINER MONUMENT OF THE RIVER SPREE
The Road of Recollection is a public monument in the area of Spree-Bogen, which is part of the Berlin-Moabit. The sculptures – heroes without swords – are honoured and brought to the attention of the German people, but also to the many international visitors of Berlin.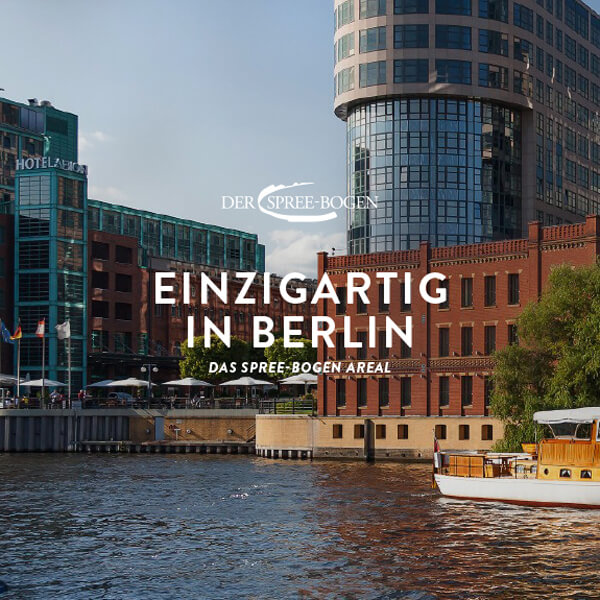 THE SPREE-BOGEN
ALL IN ONE SPOT
In the heart of the capital the Spree-Bogen area combines urban life and work in a very special way.
The new designed area with its quiet location at the river is a unique place in Berlin, which always worth a trip. Exclusive and yet down-to-earth.
DER SPREE-BOGEN
TECTUM LIEGENSCHAFTSVERWALTUNG GMBH
ALT-MOABIT 98, 10559 BERLIN
WWW.SPREE-BOGEN.DE

If you have any questions about your stay at AMERON Berlin ABION Spreebogen Waterside, please do not hesitate to contact us.
Central main station, Tiergarten and other central places of the city can easily reached by foot. In the public parking garage of Spree-Bogen are countless car parks, which you can find on the site of the former diary.
U9 – 200 m
S-Bahn 300 m
City highway 2000 m
Central station 1500 m
Hotel ABION Spreebogen
Villa ABION
Bolle Festsäle / Bolle event venue
Kleiner Tiergarten / Small Tiergarten – 100m
Großer Tiergarten / Grand Tiergarten – 650m
Schloss Bellevue / Bellevue Palace – 700m
Haus der Kulturen der Welt – 1.350m
Berlin HBF / Berlin Station – 1.400m
Bundeskanzleramt / German Chancellery – 1.500m
Akademie der Künste / Academy of the Arts Berlin – 2.450m
WE ARE LOOKING FORWARD
TO SEEING YOU!